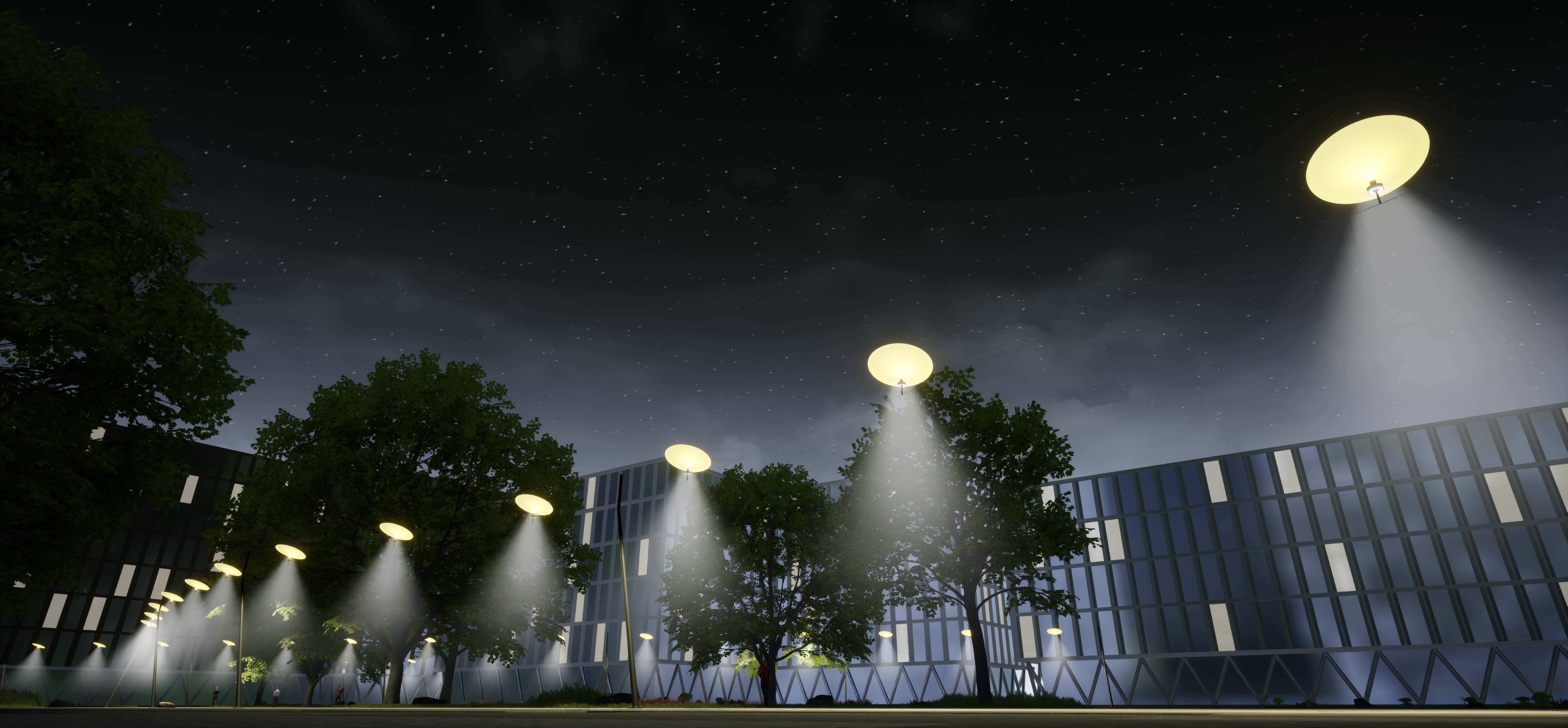 VANTOT introduces a design for a solar powered sustainable and interactive (street) light-installation called SUNSEEKER. Designed for the brand new Victoriapark in the city center of Eindhoven. 
SUNSEEKER
2020
COLLABORATION with
Municipality of Eindhoven
SUPPORTED by
Brabant geeft Energie, Provincie Brabant
What if Labs, Dutch Design Foundation
Eindhoven Design District, Dutch Design Foundation
MIT, MKB innovatie stimulering
Spoorzone, Gemeente Eindhoven
Dynamics by day
The individual fixtures along the light chain behave just like people looking for the sunniest spot. The smart modules are equipped with light sensors and can move like tightrope walkers along the light chain with the position of the sun, looking for the sunniest spot. So, they never hang in the shade of trees, clouds or surrounding buildings unnecessarily. At the same time, the SUNSEEKER moves on its axis like a sunflower, always looking for the optimum position in relation to the sun. And that produces as much energy as possible, enough to also be able to light up the night.
A guide at night
When it's dark in the evenings, people feel safer in the park or on the street when the sympathetic chain of light acts as a guide through the night, serves as signage and forms a visual connecting route from a to b, such as from the centre of Eindhoven to Strijp. At night SUNSEEKER can also move along and interact with the walking people in the park by changing light intensity and colour. The underside of the ring of the lighting module lights up like a halo when you are walking through the park. Neighbouring residents have an exclusive view of a subtle play of light from their balconies or through the window. There's always something going on, day and night.
We like to work in a progressive and idiosyncratic way within the world of lighting and believe in dynamic additions and interventions in public space. We use the power of design to create sustainable, smart, tactile and movable lighting that people like to surround themselves with and that has enormous potential for the future. In our designs, technology always goes hand in hand with creativity, quality and aesthetics. But not only that: we are responding to a demand that does not yet exist. With SUNSEEKER, the chain of umbrella-shaped lanterns, we provide a contemporary, sustainable and interactive answer to the static street lighting that we are familiar with. This results in an interesting field of tension: is it art? Is it street lighting? Or is it more like something in between?
HUMAN INTERACTIVE STREET LIGHTING
SUNSEEKER makes a city more attractive to both residents and people from outside of the city. We make them think about sustainability in a different way, even more so than before, by making street lighting visible in a non-functional way. People literally experience an alternative: the light chain is dynamic and interactive; the modules move with the sun and react to passing people. This creates amazement and allows people to identify with it. For us, technology is always cleverly and logically integrated into the aesthetic design. This enables us to give poetry and humanity to something technical and almost elusive.
SUNSEEKER contributes to the atmosphere, experience and liveability of the public space. At the same time, we are giving the sun the role of charger, making solar cell energy tangible and helping the energy transition – which must be a reality by 2050 – to move forward.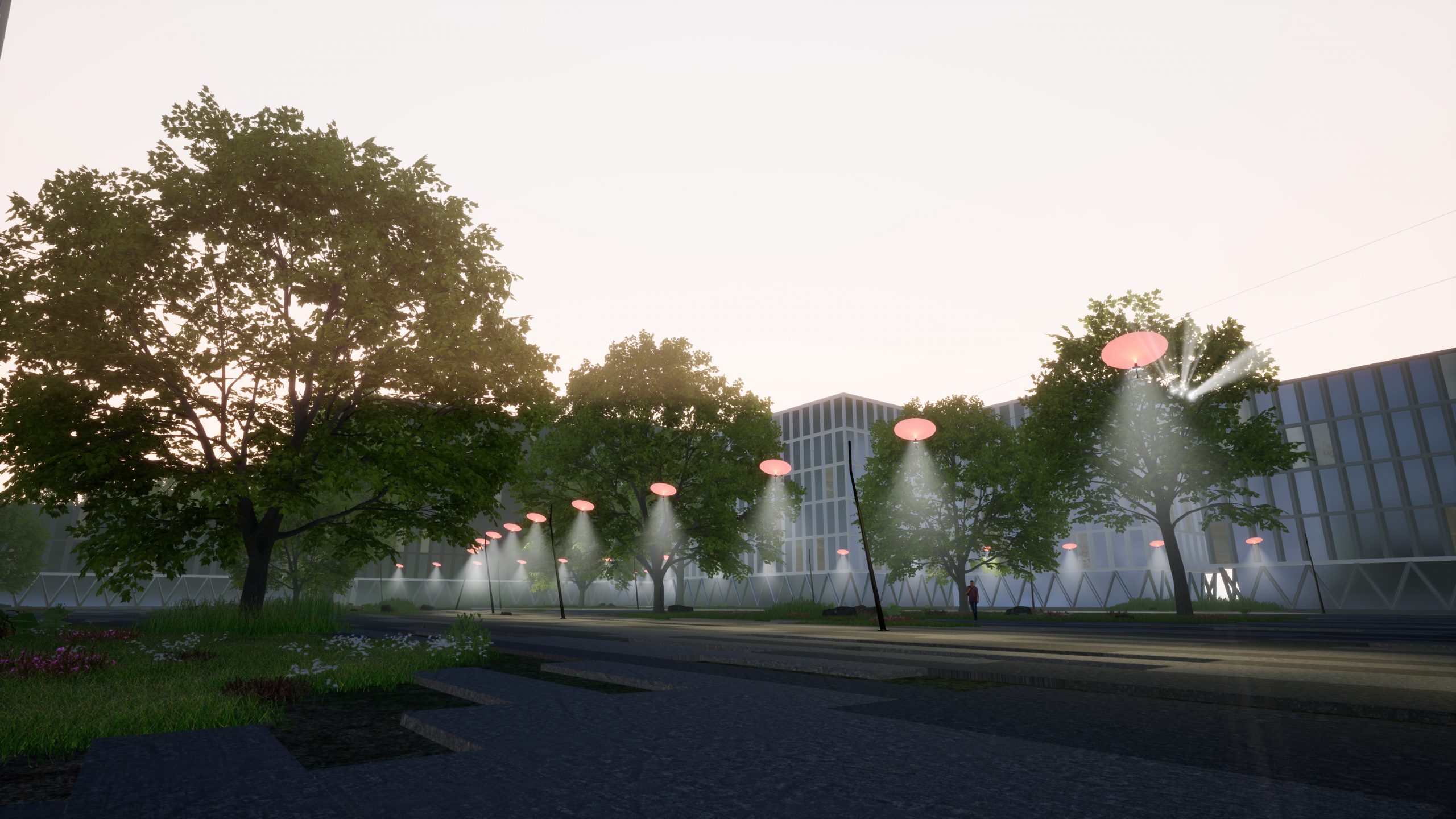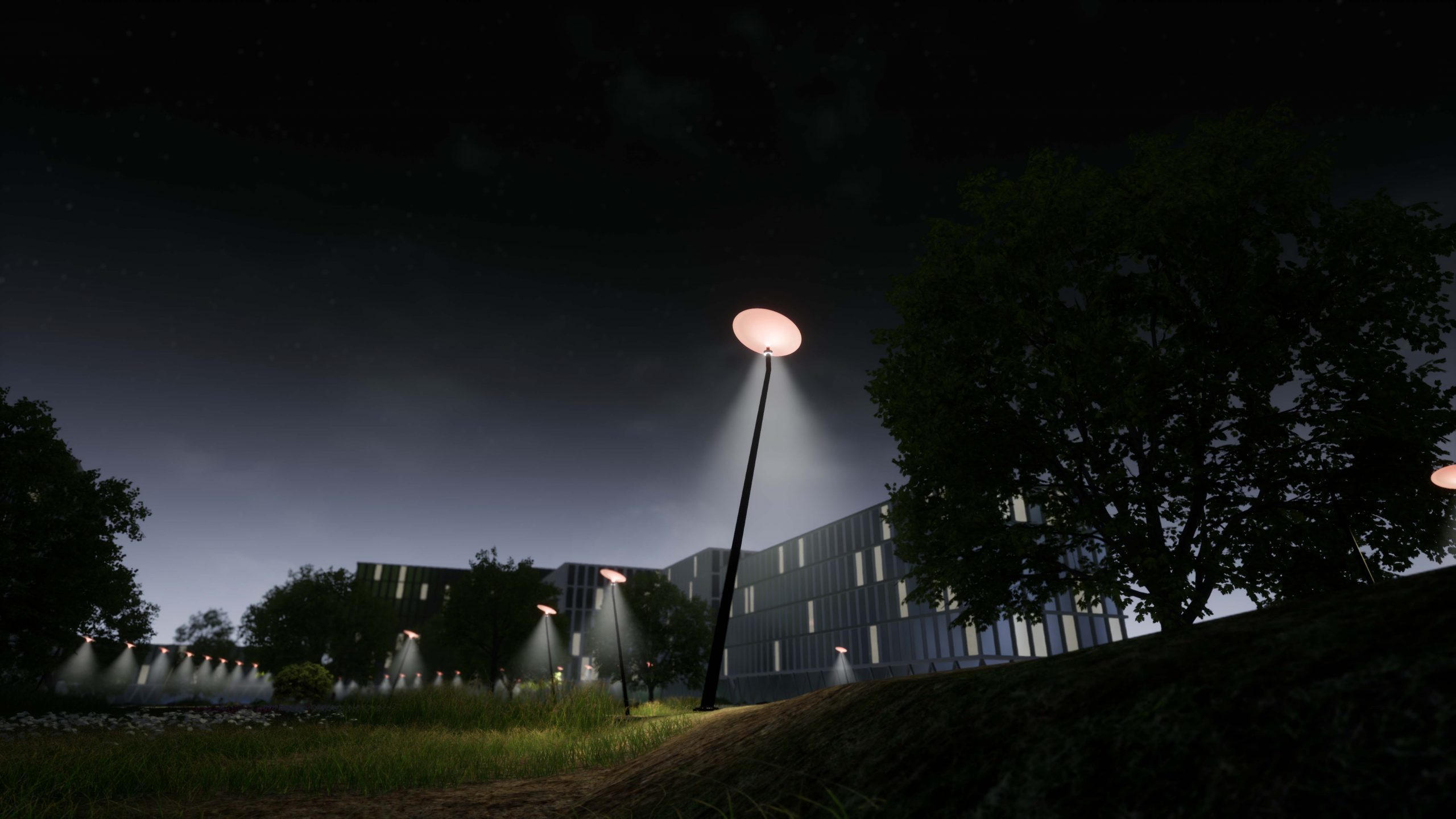 Sunseeker
Technical specs
Module dimensions:
height: 1100mm
Width: 1000mm
Mast Dimensions:
height: 6000mm
cable span: 20m max
(max 3 modules per 20m)
Light :
Ledil Strada lens C_13492_STRADA-T-DN
Luxeon 5050 (Round)  6V
3000K
80CRI
L150-3080500600000 (Lumileds)
Versions :
Sunseeker comes in two versions with cable suspension or standalone mast
Interactive 3D Visualisation
Looking for a new way to test the large scale of the design and to determine the dimensions and details of the design, we devised and developed a new digital design tool together with digital expert Roel Deden. With this, we can now create our own 3D world, the hypothetical environment of a park with the SUNSEEKER. This allows us to bring the design to life and make it tangible at an early stage in the design process. Through this VR technology, we now have an important new design tool with which we can simulate a world and adjust it in real time.
In this way, we can allow potential collaborating parties to experience a whole day in just a few minutes, so that they can visualise how the lighting reacts both during the day and at night, what the SUNSEEKER may actually look like and what its potential is.
Our SUNSEEKER 3D world is dynamic and continues to evolve. New ideas, prototypes and customer locations can be added, allowing us to make our own virtual world a little bigger and richer.
SMART SUNSEEKER – SMART CITIES
Many large cities want to develop into Smart Cities, both in the Netherlands and in the rest of the world. Cities are full of clogged up sensors; they are in traffic lights and they measure flows of people. To make the public space smarter, we use our knowledge, coming up with ideas that lead to visible and tangible solutions that respond to that need. With the software that we have developed, we program SUNSEEKER, lighting that has enormous potential to make cities smarter, more sustainable, safer and more liveable. We show that you can make public spaces more attractive by making lighting more interactive in all sorts of ways: it can change light intensity or colour, it can move, integrate sound and respond to people.
The potential extends even further: SUNSEEKER pays for itself. After all, solar cells produce energy, light is fed by light. In future Smart Cities, you will no longer have to connect the lighting to the grid. That's smart, too.