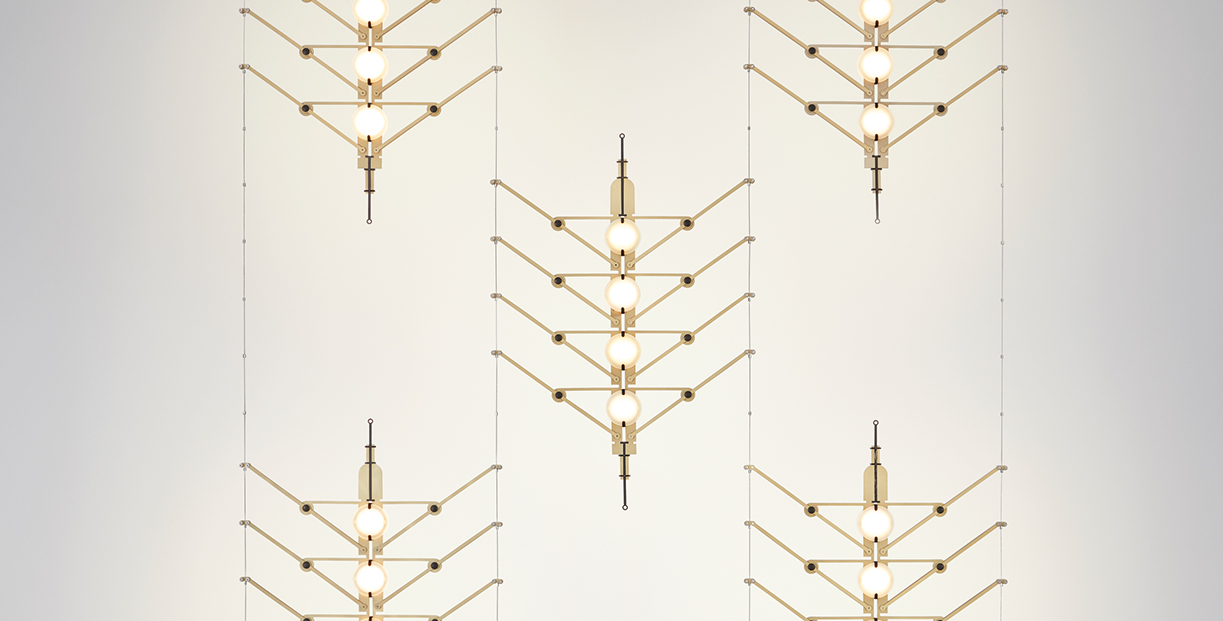 V-V-V Lights
adopted by
DCW Editions
The modular design of the V-V-V light curtain uses bare, anodised aluminum and copper elements suspended between stainless steel cables. Each separate lighting element consists of 4 LEDs tucked behind thin sheets of acrylic to soften the emitted light. The elements can be clipped directly onto the conductive wire curtain structure, meaning their frequency and height can be adjusted accordingly.
The V-V-V- structure can be used to create a singular solitary column with a few lighting elements, or built up to combine multiple rows, creating a striking curtain that lights up a wall or partitions your space.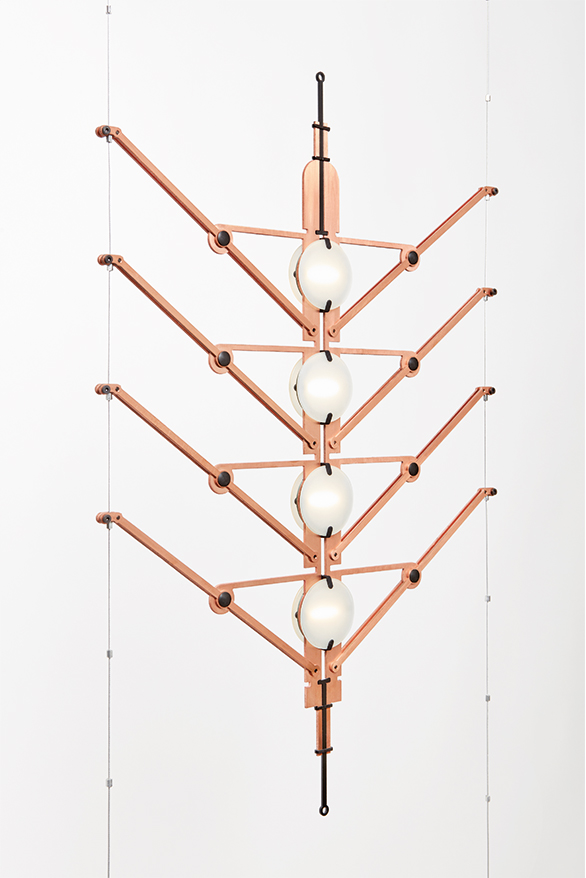 > Copper module
(On request only)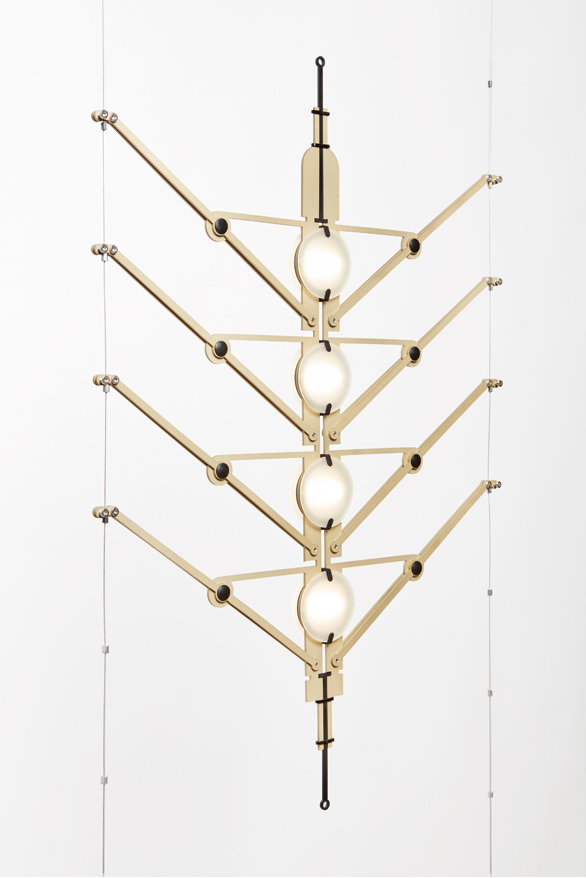 > Champagne module
(anodised aluminium)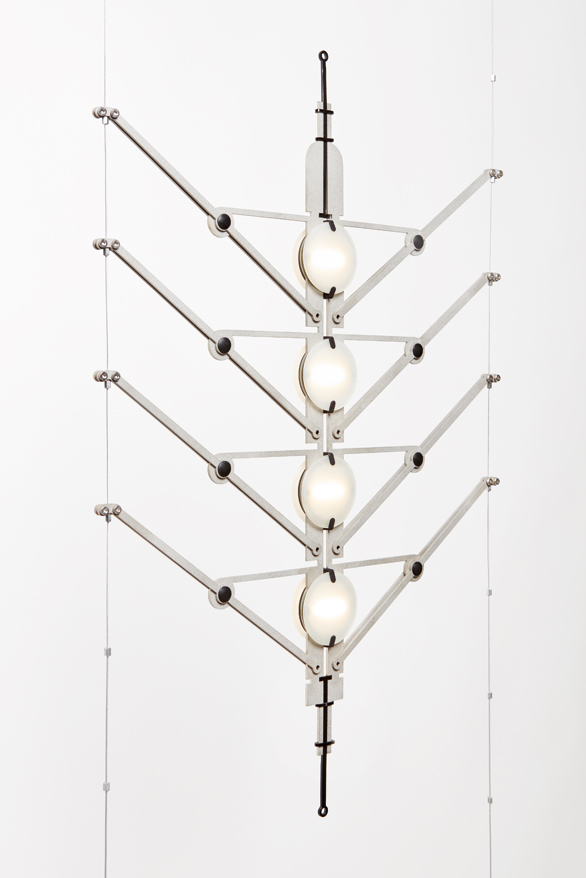 > Natural module
(anodised aluminium)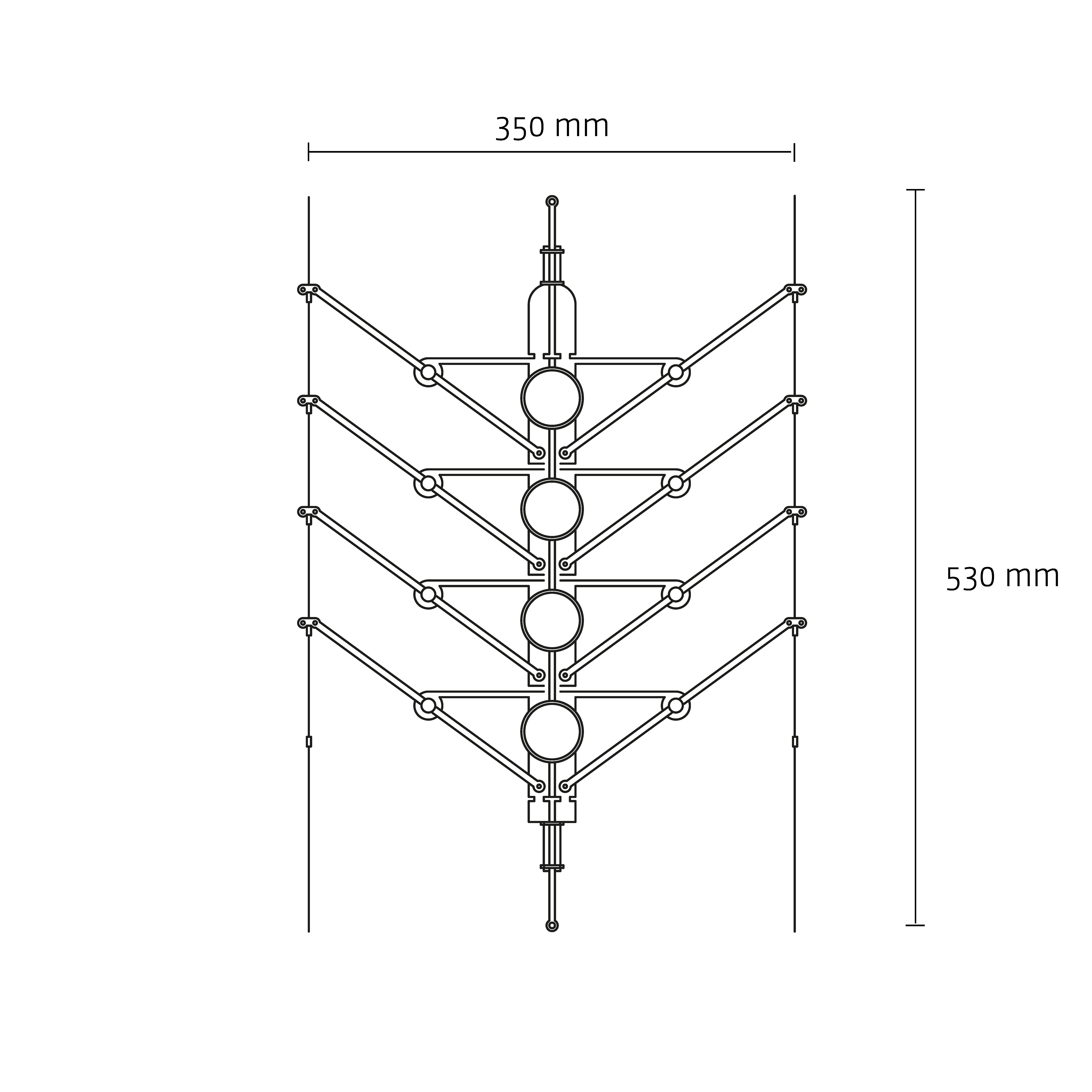 DIMENSIONS

(l x w x h)
Module: 570 x 355 x 20 mm
PHYSICAL
CHARACTERISTICS
Materials
Anodized aluminium & sandblasted glass with stainless suspension cables and stainless assembly
Finish
Silver | Gold | Copper (custom)
Rail & Canopy
White
* Different color on request
Net weight
0,4kg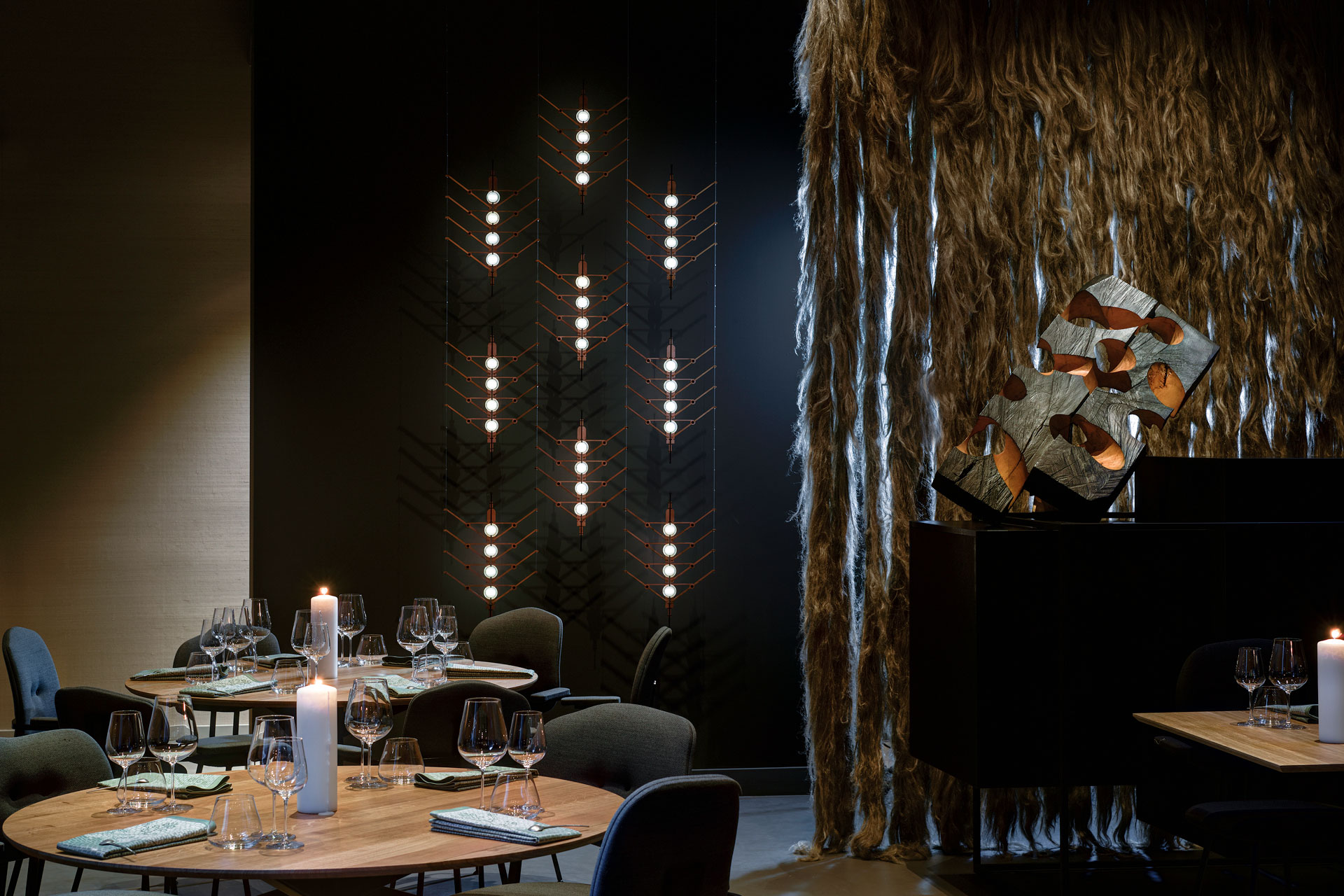 The V-V-V collection redesigns our relationship with electrical currents in interior infrastructures. Because of the LEDs that it is constructed with, the V-V-V lighting structure moves beyond the traditional lamp and power cord, which can carry dangerously high currents, towards a more sustainable and safer construction. LEDs require much lower voltage that is always filtered through a semiconductor, meaning the lighting structure is liberated from wires that have to be made safe, and electricity can flow through the structure itself while it remains safe to the touch.
What are the new ways that electrical components can be implemented in lighting design if the electrical currents that power the lights are made safe to the touch? This was just one of the questions that VANTOT used as a guiding light while designing their new V-V-V collection.
Contemporary LED technology opens up a world of design opportunities, because it requires a different approach to the conventional lighting known to many of us. Compared to traditional fixtures, the voltage of LED lights is so low that it cannot harm you when touched, meaning wires do not need to be hidden and covered with other materials. Additionally, due to the semi-transistor, the majority of electricity is transformed into light, not heat, making the lights much safer and environmentally friendlier.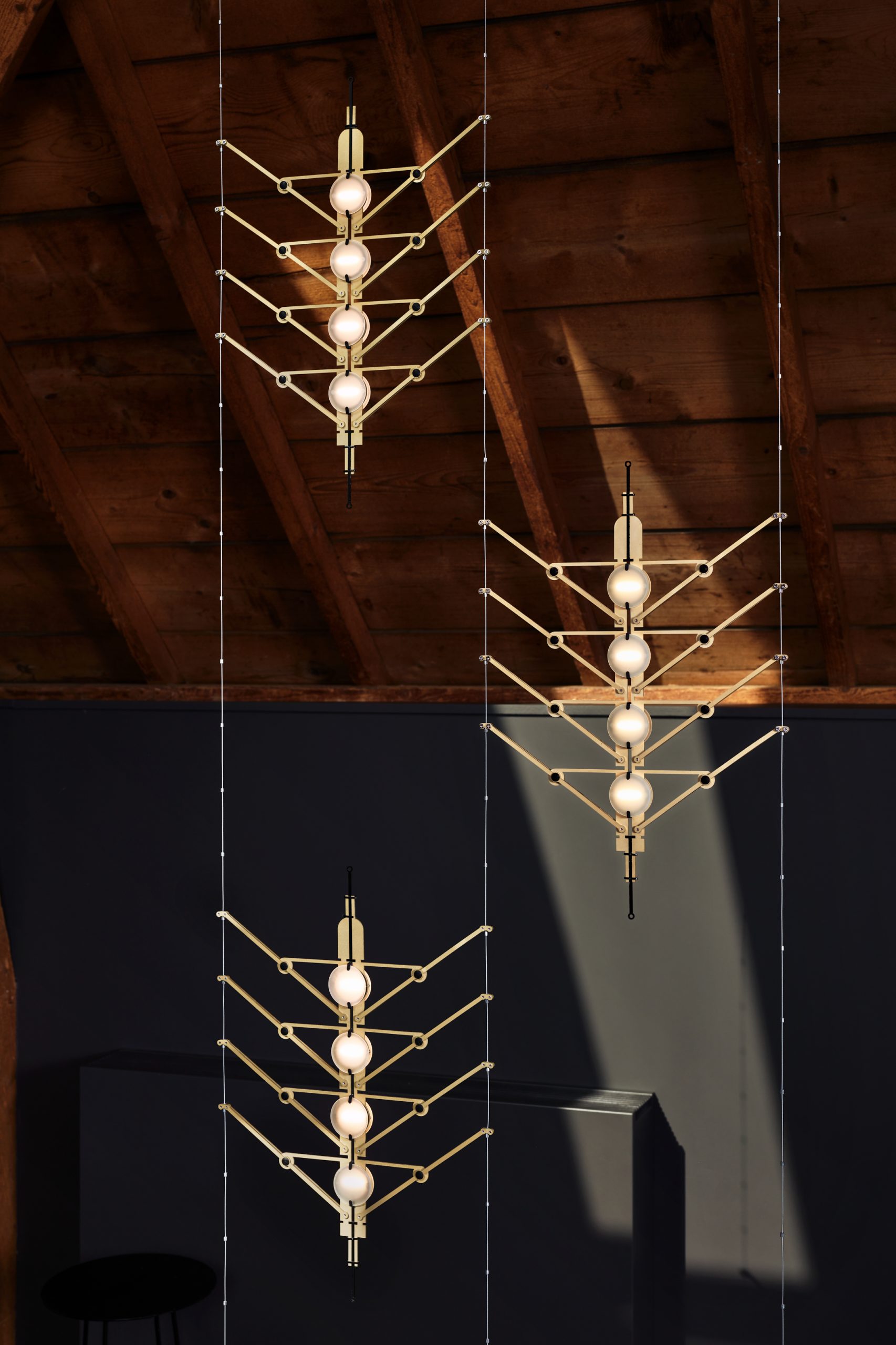 V-V-V at
DCW EDITIONS
Since 2008, Frédéric Winkler together with Philippe Cazer have always produced the lamps they love. When they first started with their favourite lamp, the Lampe Gras, everyone said: they're mad. But when they did In The Tube by Dominique Perrault and Gaëlle Lauriot Prévost, they went even further: they're crazy, people said. As the collection grew, (Mantis by Bernard Schottlander, Here Comes the Sun by Bertrand Balas, ISP by Ilia Sergueïevitch Potemine, the Biny lights by Jacques Biny, and Dormael by Éric de Dormael), they kept on being mad and crazy, but the basic premise of their project remained the same. But what's the point in continuing to produce new work when there exists so much stuff already!? The 20th Century was a hive of creativity, why keep on producing more and more? Why? Because in the long run, desire is stronger than reason. The year 2019 marks the beginning of a new era. The existing collections continue to expand and four new designers have joined the stable.  Esther and Sam from Studio Vantot in Eindhoven bring us on a trip with V V V. Philippe Nigro from Paris whispers to us with Respiro. Sebastian from Hamburg takes off with Org. Simon Schutz from Berlin conjures up magic with AARO. In a physical world that is becoming increasingly virtual, lighting and objects will always have their place as a source of reassurance and a point of reference capable of making us dance, just like a piece of music when it comes to life on the instrument that plays it. Let there be light!