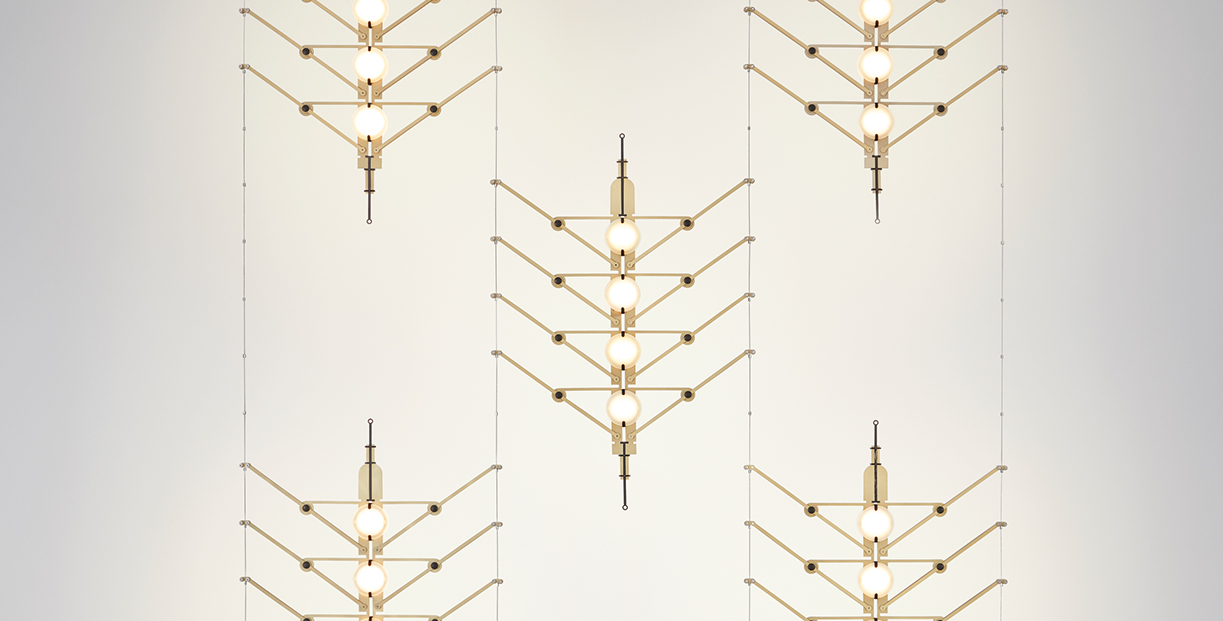 V-V-V Lights
adopted by
DCW Editions
You can create large space-separating light curtains with the modular LED light concept V-V-V. Its modular design uses bare, anodised aluminium elements suspended between stainless steel cables. Each element consists of 4 LEDs that have been sandblasted to soften the emitted light and clip directly on to the conductive wires.
Start with a base module and add as many rails, wires and elements as you like, positioning them in whatever pattern you prefer. Use a single base module with a few elements as an elegant solitary light column, or combine multiple rows to create a striking light curtain for partitioning your space.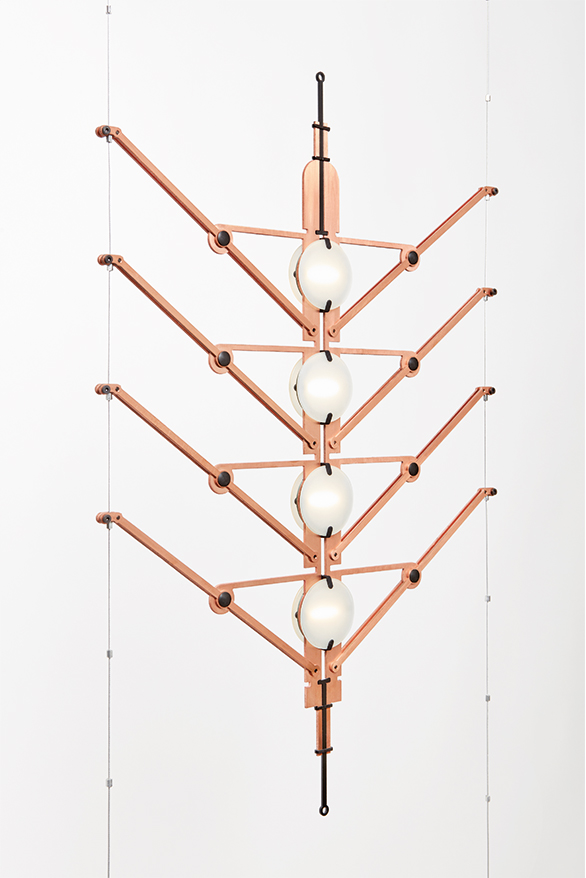 > Copper module
(On request only)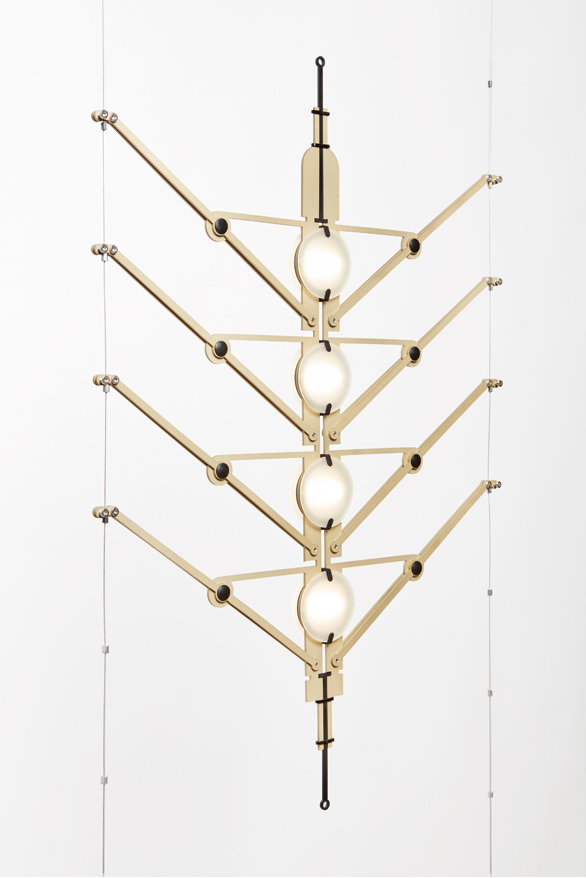 > Champagne module
(anodised aluminium)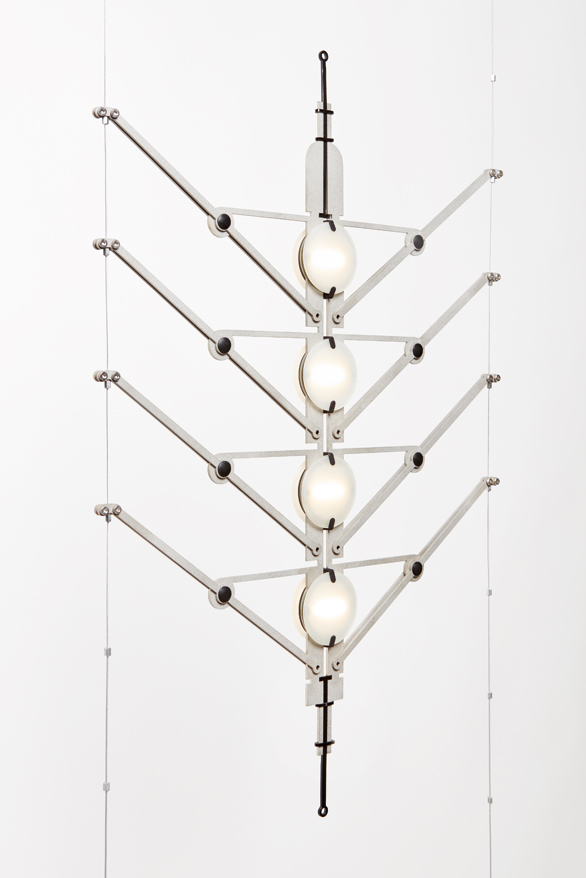 > Natural module
(anodised aluminium)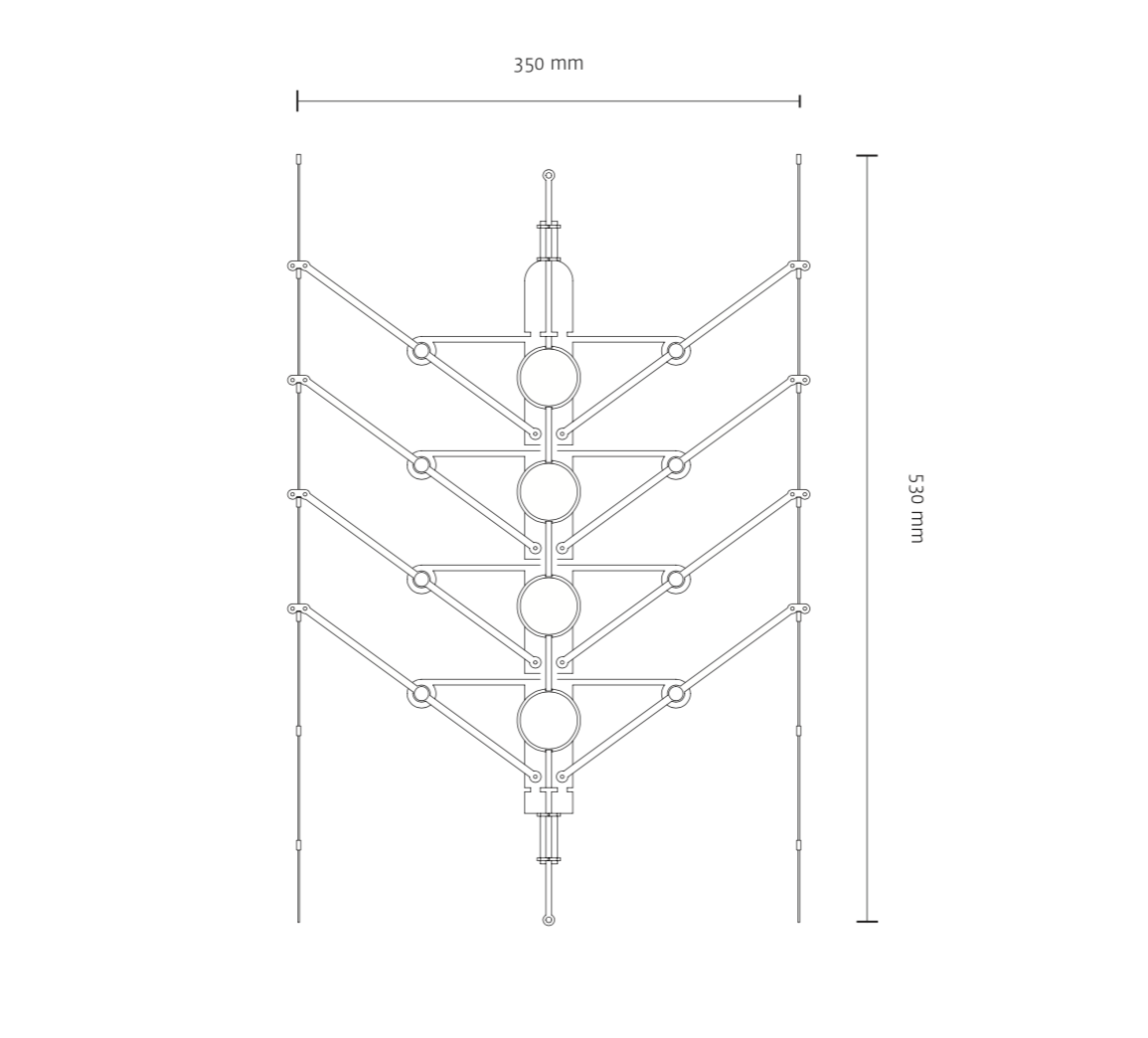 DIMENSIONS
(l x w x h)

Full Swing
1 BOX 440x645x75 mm Gross weight 1 kg
Net weight
PHYSICAL
CHARACTERISTICS
Gold |
Anodized aluminium & sandblasted glass with stainless suspension cables and stainless assembly
Silver |
Anodized aluminium & sandblasted glass with stainless suspension cables and stainless assembly
Rail & Canopy: White
* Different color on request
ELECTRICAL CHARACTERISTICS

Led maximum 2W (8 * 0,25W)
Voltage 100 – 240 V
IP 20
Lifespan LED >50 000 hours
2700 K
200 lm
CRI 85
100 Lm/W
Autonomy 7 hours
LED Driver
Included
TRIAC dimming

Certificates
CE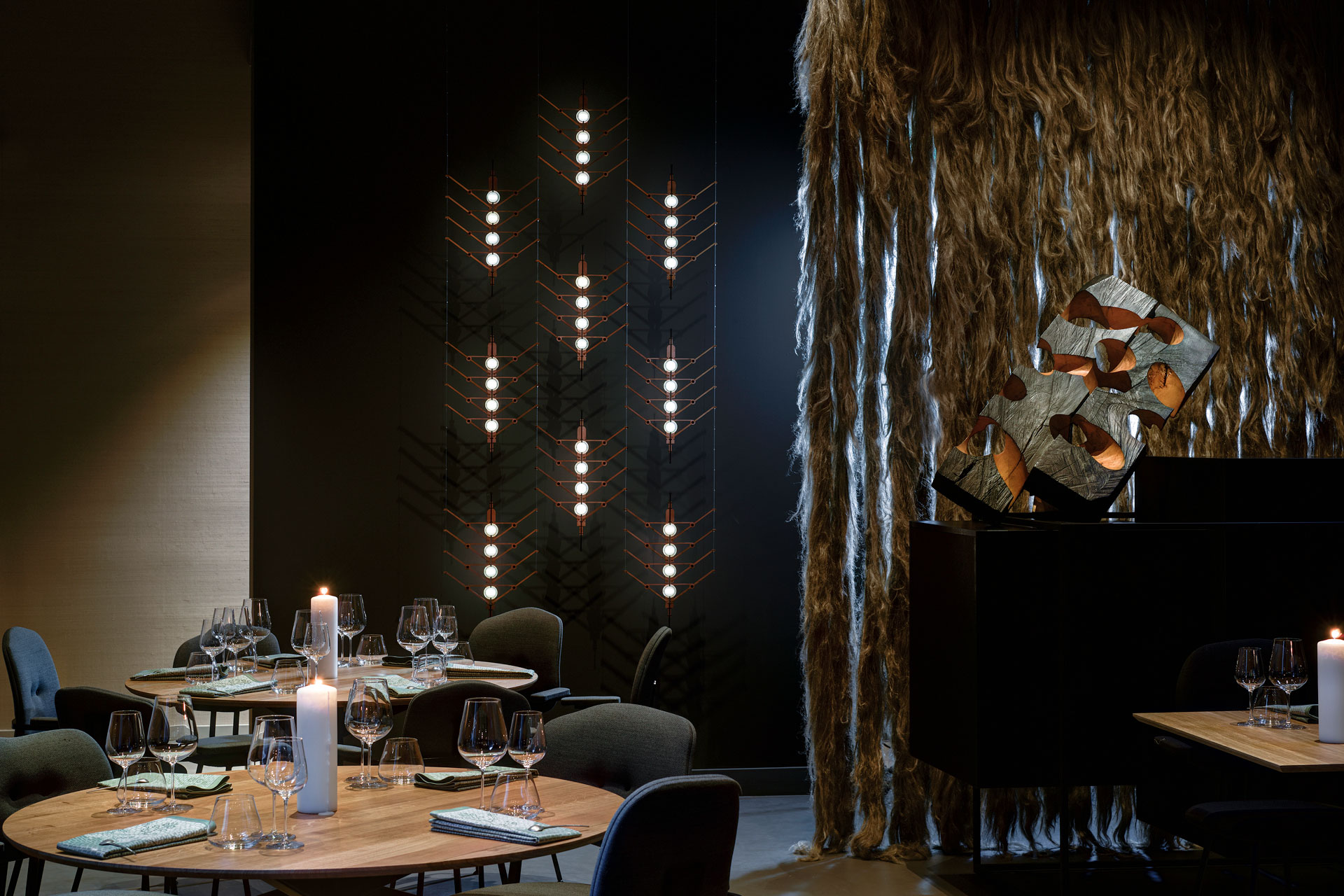 VANTOT based their collection on the idea that electric current is a fundamental part of our home interiors and appliances. It is often perceived as dangerous and, and therefore carefully tucked away into small boxes or thick, isolated cables. VANTOT takes a different approach by designing innovative, low voltage lighting objects that step away from the traditional concept of a lamp and a power cord. Instead, they design objects that are fully conductive while safe to touch. Contemporary technologies, such as LED, are an important part of their design vision.
Electric current is often perceived as something frightening, but what would it be like if low voltage was the new normal? Would we still be afraid to touch exposed wires? How can we implement electrical components as part of the design, instead of hiding them? These are just some of the questions that VANTOT used as a guiding light while designing their new collection Current Currents.
While it opens up a world of design opportunities, LED requires a different approach than conventional lighting. Compared to traditional fixtures, the focused and dense light of LED calls for multiple light sources instead of one. Current Currents challenges the idea of traditional lighting and rediscovers the role of light in interiors.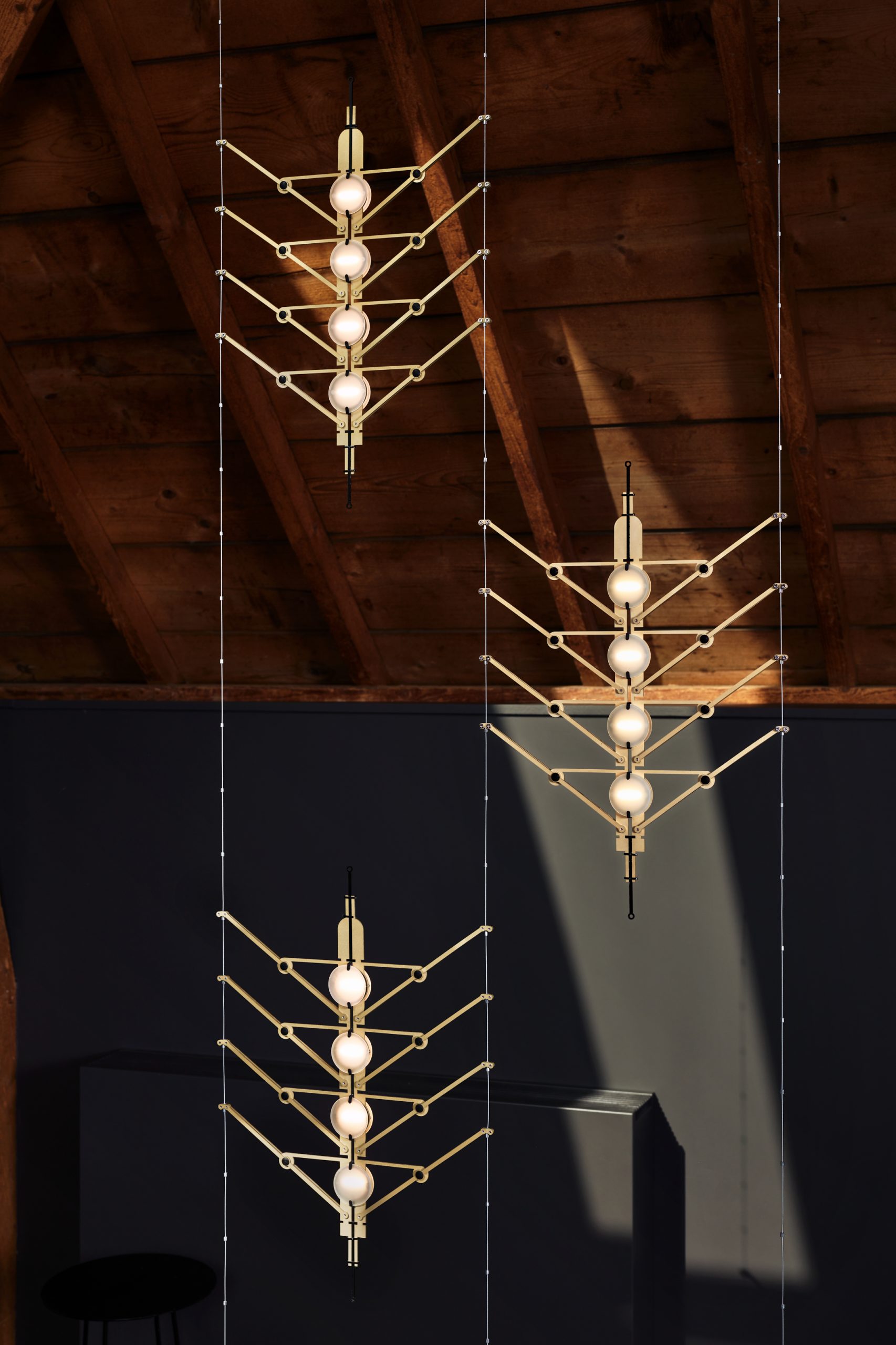 V-V-V at
DCW EDITIONS
Since 2008, Frédéric Winkler together with Philippe Cazer have always produced the lamps they love. When they first started with their favourite lamp, the Lampe Gras, everyone said: they're mad. But when they did In The Tube by Dominique Perrault and Gaëlle Lauriot Prévost, they went even further: they're crazy, people said. As the collection grew, (Mantis by Bernard Schottlander, Here Comes the Sun by Bertrand Balas, ISP by Ilia Sergueïevitch Potemine, the Biny lights by Jacques Biny, and Dormael by Éric de Dormael), they kept on being mad and crazy, but the basic premise of their project remained the same. But what's the point in continuing to produce new work when there exists so much stuff already!? The 20th Century was a hive of creativity, why keep on producing more and more? Why? Because in the long run, desire is stronger than reason. The year 2019 marks the beginning of a new era. The existing collections continue to expand and four new designers have joined the stable.  Esther and Sam from Studio Vantot in Eindhoven bring us on a trip with V V V. Philippe Nigro from Paris whispers to us with Respiro. Sebastian from Hamburg takes off with Org. Simon Schutz from Berlin conjures up magic with AARO. In a physical world that is becoming increasingly virtual, lighting and objects will always have their place as a source of reassurance and a point of reference capable of making us dance, just like a piece of music when it comes to life on the instrument that plays it. Let there be light!