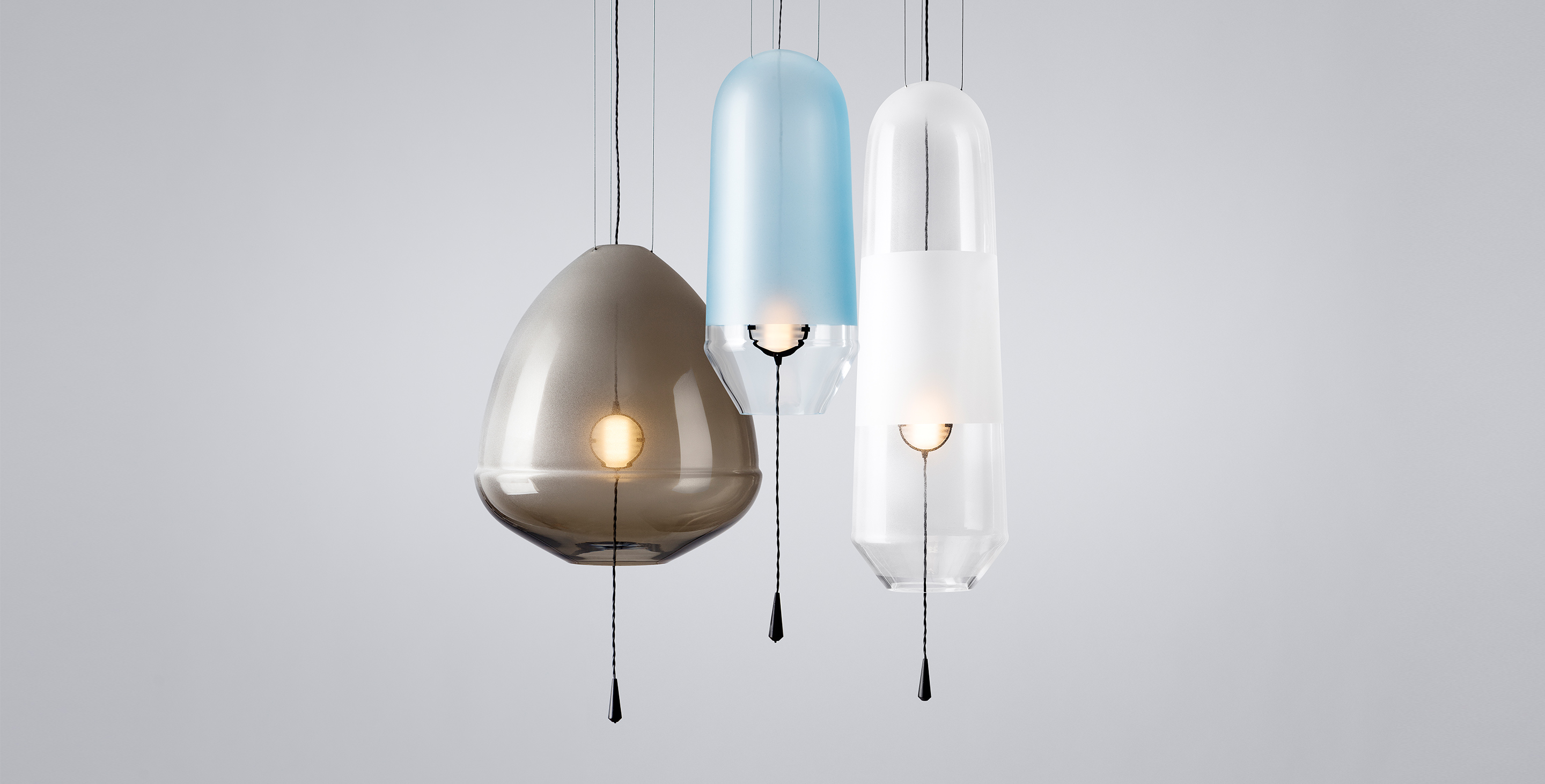 Limpid Lights
Adopted by
Hollandslicht
Limpid Lights continues on the idea of manipulating the light with movement. By moving the light-source closer to, or further away from the lighting object, the intensity of the light can be adapted. While the initial LED-light is fresh and bright, the handblown glass shades can be used to soften the light and create a more intimate ambiance. By moving the light source, the light can be playfully adapted from bright to a more diffuse, soft and/or coloured light.
Limpid Light comes in three shapes – small, medium and large -. You can choose between two glass colors: Clear and smoke. Custom colour finish is possible at larger order quantities. There are two types of suspension available: Full Swing and standard. The Full Swing version provides the total package including an adjustable LED with two counterweights keeping the light at a desired position. The Standard version embodies the essential simplified setup without counterweights, which could be more suitable for public environments as a bar or hotel.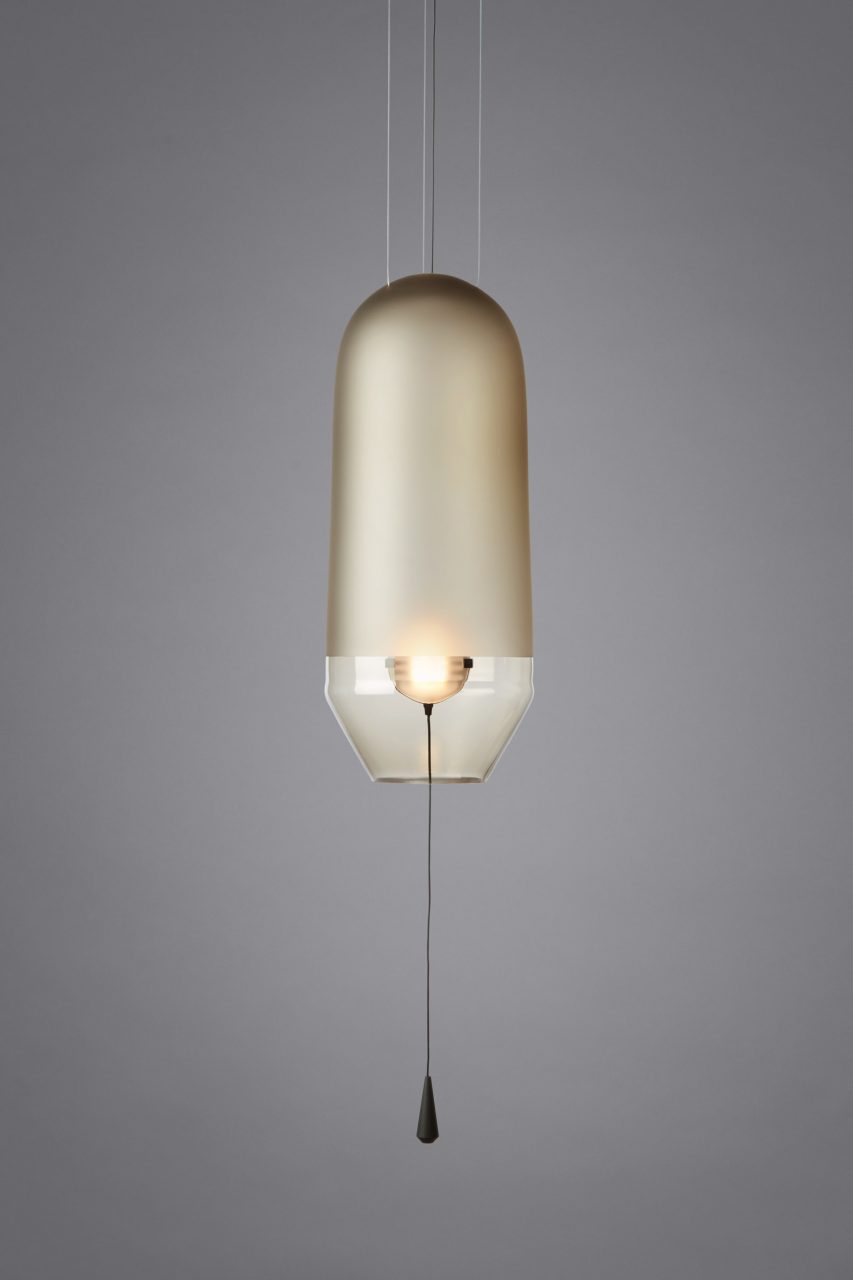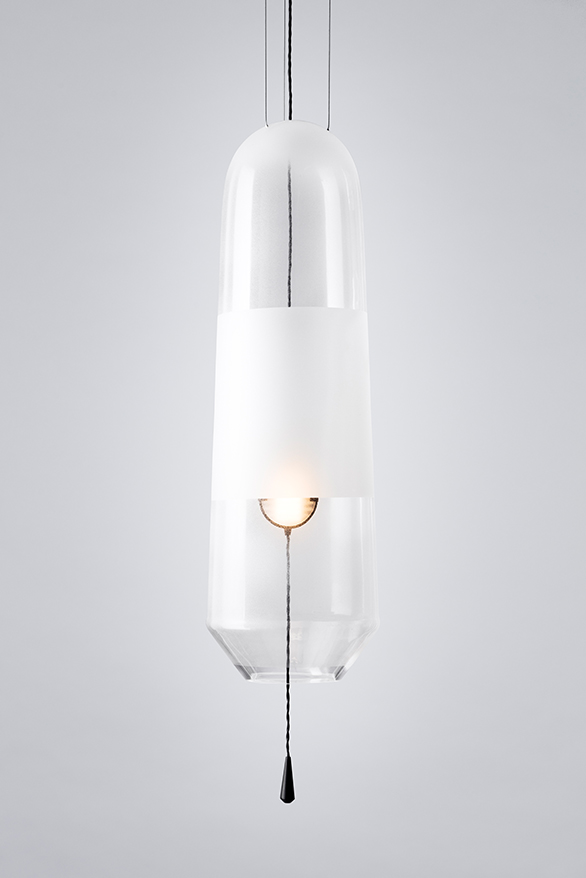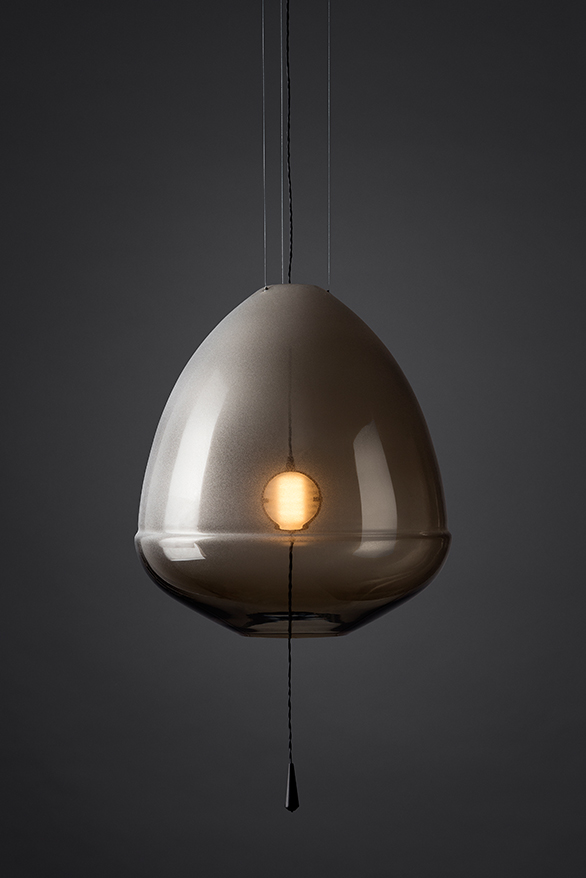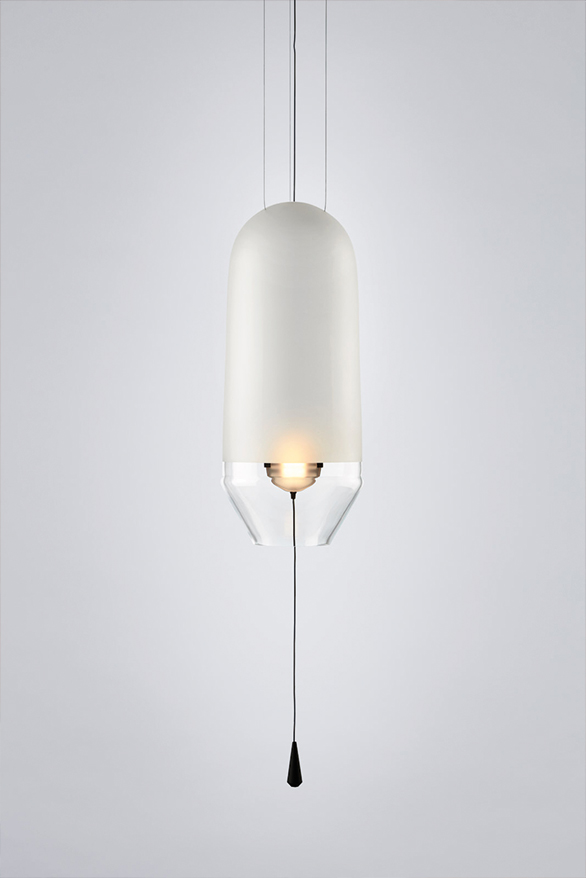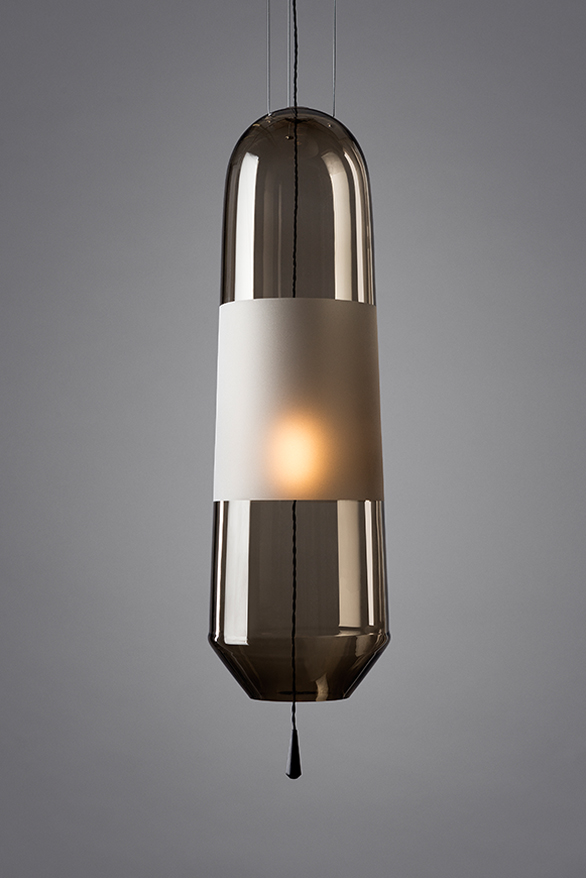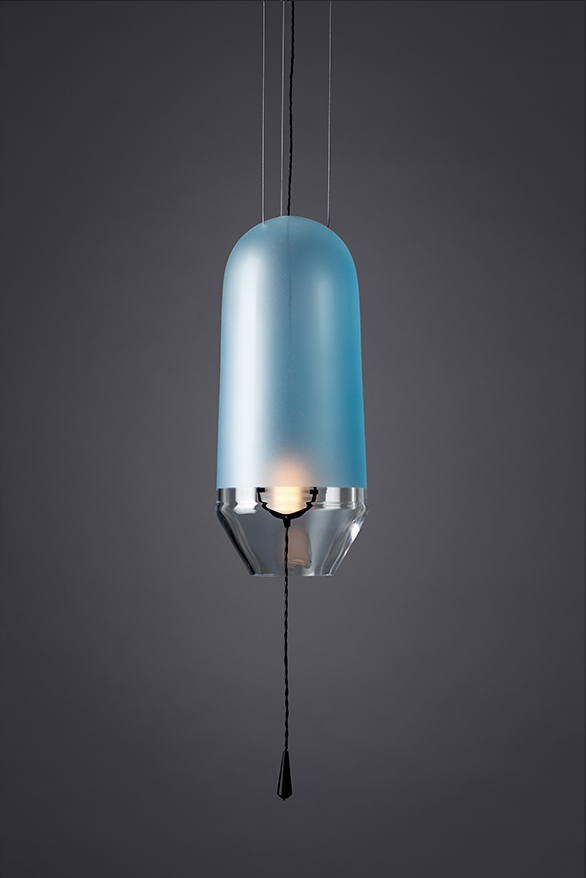 Limpid Lights
Technical Specs

DIMENSIONS
(l x w x h)

S – 166 x 166 x 385 mm
M – 340 x 340 x 360 mm
L – 200 x 200 x 600 mm
Package

S
Full Swing
1 BOX 415 x 415 x 565 mm Gross weight 3.9 kg
Net weight 2.9 kg
Standard
1 BOX 415 x 415 x 565 mm Gross weight 3.0 kg
Net weight 2.0 kg
M
Full Swing
1 BOX 415 x 415 x 565 mm Gross weight 5.6 kg
Net weight 4.6 kg
Standard
1 BOX 415 x 415 x 565 mm Gross weight 4.7 kg
Net weight 3.7 kg
L
Full Swing
1 BOX 415 x 290 x 785 mm Gross weight 6.5 kg
Net weight 5.5 kg
Standard
1 BOX 415 x 290 x 785 mm Gross weight 5.6 kg
Net weight 4.6 kg
PHYSICAL
CHARACTERISTICS
Shade in glass (The glass is mouth-blown and therefore can contain air bubbles).
Adjustable suspension in steel and brass. Non-adjustable suspension in steel.
Finish
clear glass smoked glass sandblasted
* with fingerprint protective finish
ELECTRICAL CHARACTERISTICS

Led 12 W
2700 K
1200 lm
CRI 80
LED Driver
Meanwell PCD-16-350B
200-240 VAC    0.20 A   50/60 Hz
277 VAC            0.15 A   50/60 Hz
Max. 40 W
Tronic dimmable,
casambi dimmer suggested.
Certificates
CE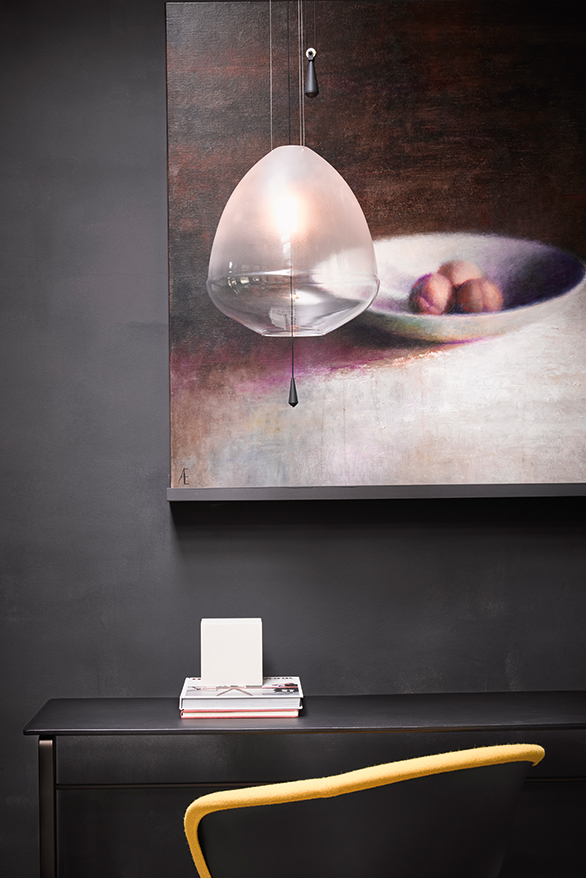 HANDBLOWN GLASS
CZECH REPUBLIC, EUROPE
All products are made in Europe with the highest quality because we want to contribute to better surroundings in the first place. A centralized location in Europe with a rich history regarding glass blowing and sufficient resources, the Czech Republic has become our choice of manufacturing.
Czech glassmakers perfected their craft skills throughout the Middle Ages and this also applied to the raw material they worked with. Because of technological improvements, Czech glass became a highly demanded commodity in the transalpine Renaissance. It is as famous as the Venetian glass which is considered the peak of glassmaking to this day.
Since then, the Czech glassmaking has developed and invented new possibilities and made use of new materials. Due to the quality and development, Czech glass fairly maintained its position until this day.
The Czech Republic holds an indispensable place in the modern history of glassmaking, many technologies that were developed by Czech glassmakers are now used all over the world.
At Vantot quality is our priority, the production process is essentially important. Therefore, we spent time in the Czech Republic learning how our products are made and contributed countless hours choosing the right manufacturer for the "Limpid light".